Celebrate all things Canuck with a Canadian-themed weekend in Vancouver. From beers and bears to puck drops and poutine, the city has plenty of patriotic places to rock a red and white weekend! Get ready for some Canadian comfort food, plenty of plaid and some of the country's most curious creatures, all here in our insider itinerary.
SATURDAY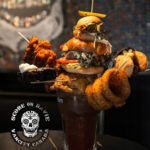 Hail Caesar!
No, not the salad! A Caesar is the Canadian brunch beverage of choice — usually made up of vodka, clamato juice (that's clam and tomato), and spicy Tabasco sauce. Davie Street's favourite patio destination, The Score, takes Caesars to the next level with special toppings from a Grilled Chaesar with fried pickles, onion rings and a grilled cheese sandwich to a $60 'Checkmate,' which comes topped with a gut-busting roasted chicken, Score burger, pulled pork slider, onion rings, chicken wings, mac & cheese, hot dog and brownie.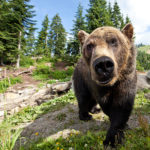 Befriend Bears and Beaver Tails on Grouse Mountain
Get to Grouse Mountain on a free 30-minute shuttle ride from Canada Place. Take the gondola up to the mountaintop to meet the resident grizzly bears (don't worry, they have their own home enclosure) and head to the Beaver Tails hut to taste a Canadian classic (again, don't worry… it's just a flat dessert pastry and not an animal appendage). Enjoy the views from the top, then seek out the lumberjack show for special stunts that involve log-running, tree climbing and plenty of plaid.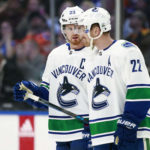 Catch a Vancouver Canucks Game
Want to sound like a local? Drop the 'ice' and just call it hockey when you turn up for a Vancouver Canucks game at Rogers Arena on the edge of downtown. Grab a beer — Molson is a big brand or try one of the local craft beers on tap there such as Red Truck Brewing. Cheer on the Canucks and join in the fun at Canada's favourite game. If you're visiting outside of hockey season (which runs roughly October to April) or you've got time, and the inclination, pop to the BC Sports Hall of Fame in nearby BC Place and to learn about some of the province's most well-loved sportsmen and women.
SUNDAY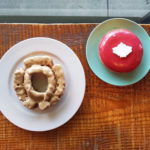 Dig into a Morning Maple Doughnut
Canada's coffee chain Tim Hortons (named after a hockey star, naturally) serves up Timbits, iconic little doughnut balls, but Vancouver is also home to artisan doughnut makers. Head downtown to dig into quirky flavours at Cartem's at 543 West Pender Street, Lucky's Doughnuts at 689 Thurlow Street or take a trip to Granville Island Public Market's Lee's Donuts to pick up a maple doughnut to start the day.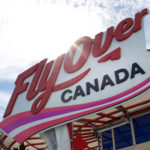 Fly Over Canada in 15 Minutes
Belt up and get ready to 'fly' across the country from Canada Place. FlyOver Canada is a breath-taking immersive experience that takes you on a realistic flight from the East Coast and the Maritimes to the most western point of Vancouver Island. We don't want to spoil too much of the surprise but it's a must-do if you want to see Canada from the sky without taking off.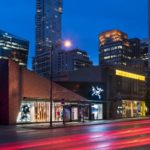 Shop for Local Labels on Robson Street
Get ready to shop until you nearly drop! Robson Street and its side streets are home to Canadian-born brands such as Roots — an outdoors-inspired clothing range, Aritzia — Vancouver's womenswear brand, Arc'teryx — high-end technical outdoor apparel, and Lululemon — the city's yoga label that has now gone global.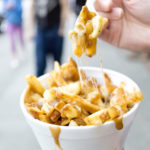 Pick Up Some Poutine
Squeaky cheese curds, gloopy gravy and fries might not sound like a delicacy but the humble plate of poutine is Canada's national dish. Best consumed after a few of those hockey beers, poutine appears on many menus in upscale versions (duck fat or pork belly, anyone?) but can be found as take-out at Granville Street's Smoke's Poutinerie, or Davie Street's Fritz European Fry House and La Belle Patate.
Looking for a Canadian-themed stay in Vancouver? Check out our great rates for your vacation.
PHOTO CREDITS:
Canada flag with mountains: Pexels.com
Checkmate Caesar at Score on Davie: Score on Davie's website
Grinder the grizzly bear up at Grouse: Grouse Mountain's website
Canucks Henrik and Daniel Sedin during their last game: Vancouver Canucks website
Canada Day doughnuts at Lucky's Doughnuts: Lucky's Doughnuts Facebook page
Signage at FlyOver Canada: FlyOver Canada Facebook page
The Arc'teryx store front: Arc'teryx website
Poutine at Fritz European Fry House: the Fritz Facebook page