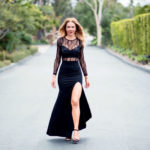 This travel guide originally appeared on The Siren Confidential. Consumed by wanderlust and seeking the next adventure, this San Diego-based site provides a roundtrip ticket into Cynthia's life, one post at a time. The Siren Confidential is an inspirational editorial platform sharing style, travel, and beauty for the modern consumer.
HELLO, HELLO MY LOVES!
Since I returned from Vancouver …..I've been getting some questions from my readers on where to go, stay, eat and play. So without further ado, here we go!
WHERE TO STAY:
The Burrard Hotel
As if all of the hype wasn't enough, I can legitimately endorse this amazing newly-ish renovated hotel in the heart of downtown. I haven't planned another trip back to Vancouver this winter yet, but if I was, this little gem would be at the top of my list.
A hip, retro West Coast hotel concept unlike anything else in the city, the Burrard is situated in one of downtown Vancouver's best locations. Enjoy Granville Street, Davie Street, Yaletown, Granville Island, the seawall – all within minutes from your door.
Having recently undergone a massive multi-million dollar renovation and rebranding, The Burrard features a beautifully landscaped courtyard oasis for lounging and spotless, professionally designed rooms with luxurious bedding, premium furnishings, sparkling new bathrooms and a pleasant dose of tongue-in-cheek.
It is a four-story hotel, and what I refer to as "retro chic," still inhabiting the old school look – all of the doors face a courtyard, filled with cute palm trees decorated by white lights and a cute fireplace area in the courtyard, where you could cozy up on the little sofa for some reading, romance or a nice glass of red wine.
The manager, Darren, was super friendly and accommodating, and the staff at the front desk went way out of their way to make sure that we had everything we needed.
Oh, and a huge bonus.. its is literally right in the middle of the city, and they have cute little beach cruisers they rent out for the day to their guests for a scenic tour of the city.
If you're planning your own stay at The Burrard book directly through the hotel's website HERE … for 15% off their best available rate, plus you'll be greeted with their Stay Real Snack Pack when you check in:  Just enter the Access Code SIREN when you choose your dates.  Valid for stays through to May 31st, 2018.  Subject to availability and blackout dates.
Definitely add this on your list of where to stay in Vancouver, when you go!
WHERE TO EAT:
Miku
Miku is an Asian fusion style restaurant located in the Coal Harbour / Stanley Park area of town. It's not only beautiful but the food is equally as pretty and the cocktails are on point.
This is my third time eating at Miku. Both at the sushi bar. Sushi is terrific, fresh, and looks beautiful. They have some super-duper rolls that look and taste great. Excellent saki selection. Just watching the dozens of sushi makers is amazing as they are masters and work like nonstop robots. I plan on going back my next trip as well.
Cactus Club Cafe
I normally do not go to chain restaurants but a friend turned me onto Cactus Club Cafe last time I was in town and I can't stop going for the tuna hand rolls. The one that we went to is the one located near Canada Place.  The drinks are super deee-lish and all of the food and appetizers, I've had when I was there were amazing.  Everything is great here but the tuna rolls and the fish tacos are seriously to die for.  The both come super recommended!
WHERE TO DRINK:
Cactus Club Cafe
This appears to be a hot spot for all the young professionals that take their lunch around the area, as well as for happy hour.  I'd definitely say this is a great place to park it around 4pm and let the wine flow and the people watching begin!
The Cascade Room
Situated in Vancouver's popular Mt Pleasant area, The Cascade Room is a local favorite with a fantastic cocktail selection. The menu ranges from 'Old School Classics' to staples of the American Deep South to their impressive wine and beer selection. Join them for wings on a Wednesday, a full roast Sunday dinner, or just a casual after-work drink in a welcoming, warm bar. They'll also serve up a cocktail suited for every taste and occasion.  DEFINITELY ADD THIS ONE TO YOUR LIST, GUYS!
There is a place in Yaletown, called West Oak, and it is part restaurant, part bar.  Super dark and candle-lighty (just like I like it- ambiance is errrrything, no?)
The other places we went were in Yaletown, and I cannot remember the names of them (sorry, short term memory here!) but if you walk down the two main streets in Yaletown you can't go wrong, it's a mecca of restaurants and gorgeous Vancouverites!
If you're looking for daytime activities, I did an entire post on this earlier in the year when I visited Vancouver, but I would say,  start with: Stanley Park, the Hop On and Off Tour (I do this in almost every city, because it gives you a great overview of the city), the Capilano Suspension Bridge and Grouse Mountain.
Oh, and of course if you love to ski, Whistler cannot be beat for their skiing and cute lodges and hotels! Hope you've enjoyed my small yet mighty guide, and let me know if you have any places to add onto the Vancouver list of things to do!