Taking in a Vancouver sunset can be beautiful at any time of year. But now that we're moving into spring, with both warmer weather and longer days (farewell 4 pm sunsets!), it's easier to make a big deal about it. Whether you're looking for an outside vantage point, or a view from up high (maybe with a glass of wine in your hand), these are our top five choices for catching the sun go down.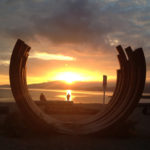 Sunset Beach
West End
Right there in its name, Sunset Beach tells you what it's all about! On the south side of the downtown peninsula with a view straight out into Burrard Inlet, this spot is known as a less crowded beach than either English Bay or Second Beach, and very conveniently it's actually the closest beach to The Burrard. Bring a picnic blanket and join the locals!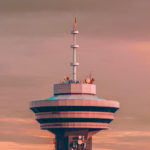 Vancouver Lookout!
Gastown
For a 360° view of the sunset, head over to Vancouver Lookout in the Harbour Centre, on the edge of Gastown. At 168 metres (550 feet) up above the city, its observation deck is a great place to get your bearings in the city, and the view is unbeatable! Even better, your admission is valid all day, so come by in the morning to kick off your time in Vancouver, and use the same ticket to take in the sunset that evening.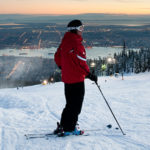 Grouse Mountain
North Vancouver
Could there be anything more "Vancouver" than catching the sunset from the top of a mountain, seeing the waning light reflect off the water, casting a warm glow over the city's skyline? We don't think so! Timing your Skyride gondola journey up Grouse Mountain to coincide with the sunset is spectacular; but if you're not quite that organized, catching it at Altitudes Bistro at the peak with a frosty beer in your hand comes in a very close second place.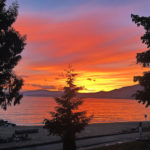 Third Beach
Stanley Park
This is Stanley Park's most remote beach, meaning it attracts the most committed sunset junkies. Still an easy 20 minute walk into the park, Third Beach feels more rugged than the other beaches, surrounded by towering fir, hemlock and cedar trees. On Tuesday nights, the beach is home to a very popular sunset drum circle – an attraction in its own right! If drumming is not your thing, you can always retreat to the nearby Teahouse Restaurant for a nice glass of wine and dinner.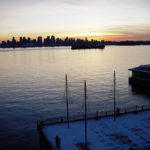 Lonsdale Quay
North Vancouver
Right opposite downtown, on the North Shore, is Lonsdale Quay. Not only is it home to a great public market, the Polygon Gallery, and a collection of restaurants, it's also home to an enviable Vancouver sunset view! Looking back to downtown, the sun sets over the skyline – the perfect backdrop as you enjoy a drink at Tap & Barrel or PIER 7. Award yourself double points if you find yourself on the SeaBus heading back to Vancouver's Waterfront Station while the sun is setting!
Ready to book your Vancouver stay? Visit our booking page for great rates no matter the season.
Photo Credits:
Feature Photo: Third Beach Drum Circle – Kyle Pearce via Flickr
Sunset Beach: Kyle Pearce via Flickr
Vancouver Lookout: ProjectAli via Instagram
Grouse Mountain Skier: Grouse Mountain website
Third Beach: Kyle Pearce via Flickr
View from Lonsdale Quay: SqueakyMarmot via Flickr