Upcoming Event: The PNE Fair, August 19 – September 4
July 17, 2023
|
Wendy Underwood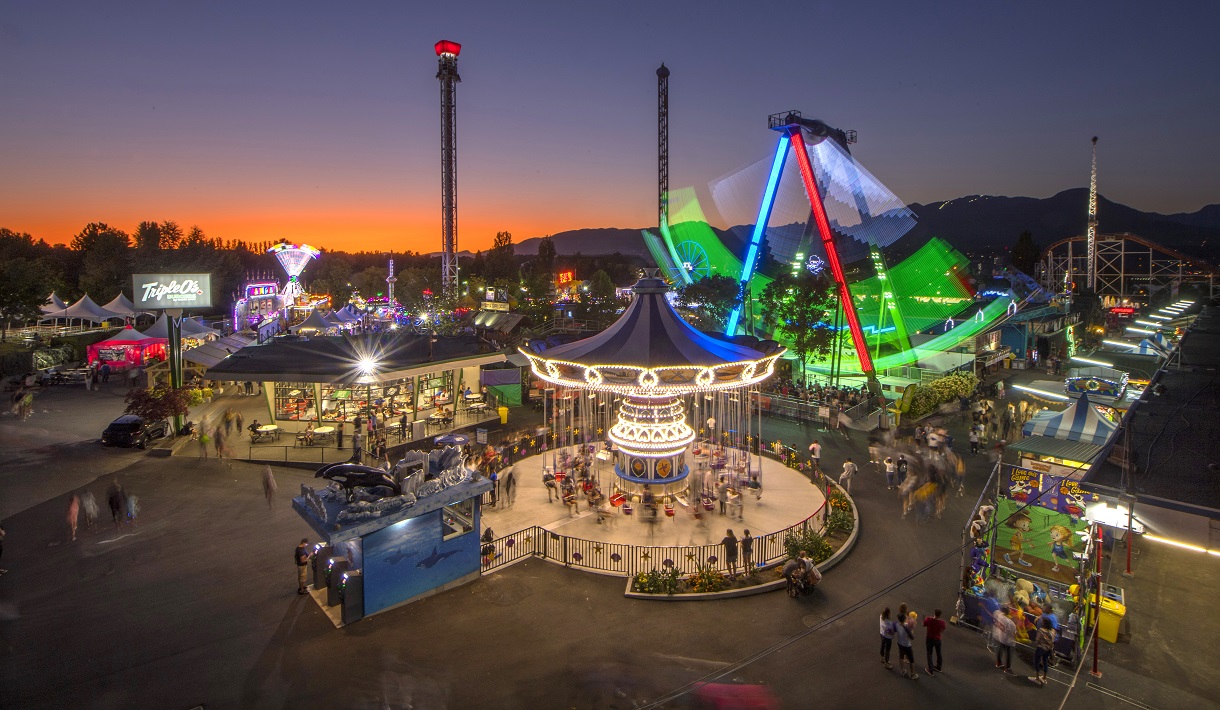 It's a Vancouver summer tradition: over the last two weeks of summer vacation, the Pacific National Exhibition fairgrounds come to life for the annual PNE Fair! Filled with rides, games, concerts and shows, agricultural exhibits, markets, and let's not forget the fair food that spans the weird to the delicious, the PNE Fair attracts young and old from across the city, province and even further afield.
Running from August 19 through September 4 (but closed on August 21 and 28), this is a Vancouver summer experience that can't be missed! Grab your tickets in advance to make sure you can get in and save $5 ($20 online, $25 at the gate for adults). Your general entry ticket gives you access to the fair grounds, including the following shows:
– SuperDogs: Barkade – a new show that sees the pups perform games with an arcade theme including World of Woofcraft, Doggie Kong, and Petris;
– Beyond Monet – a multimedia display of 400 of Monet's best-known artworks;
– The Flying Fools High Dive Show – see acrobats diving into a pool from 80 feet up in the air;
– Knights of Valour – an unchoreographed jousting show with knights riding into battle upon horses;
– Festival Park Stage – featuring cultural performances during the day and duelling pianos at night;
– Revel District Party Zone – home to the Coca-Cola Stage featuring an all-ages drag show and lots of live music.
– ToonCity – the fair's family-friendly stage with performances and dance parties during the day, and cartoon movies at night.
Entry to Playland, the fair's midway, is included in your general admission, although tickets for the rides and games (or a pass) are extra. The legendary wooden roller coaster is celebrating its 65th birthday, and other rides include The Beast, Hell's Gate, and Skybender!
And all of this is in addition to the agricultural attractions that have been at the heart of the fair since it started back in 1910, with riding demonstrations, a barn full of animals, and interactive exhibits. Head to the pavilions for markets and displays like the famous BC Challenger Map, Indigenous canoe carving, and Dinosaurs Around the World.
Let's not forget the food! For some people, the whole point of attending the PNE Fair is the weird and wonderful snacks. If you can deep-fry it, you'll find it! The list of this year's vendors is unveiled right before the fair opens, so check this page for updates.
Finally, to upgrade your PNE Fair experience, you can catch one of the nightly shows that are part of the Summer Night Concerts series. Tickets start at $25 (in addition to your general admission ticket) and the line-up is stellar! This year's acts include TLC, Boyz II Men, Billy Idol, Pat Benatar, Pink Martini, Boney M, and Blue Rodeo.
Ready to book your summer visit to Vancouver? Get the best deal by checking our Specials page for current promotions and offers.
Photo Credit: PNE website