Vancouver's North Shore Mountains are a skier or snowboarder's paradise. Mt Seymour, Cypress Mountain and Grouse Mountain offer challenging runs, beautiful views and are located just a short drive from downtown with runs are filled with beginners and experts alike on any given day. But what if clipping into boots and bindings isn't your forte? Luckily Vancouver has a wide range of winter activities to enjoy while the snow falls.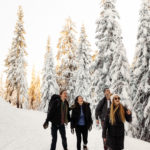 Snowshoeing
Spectacular vistas aren't just for skiers and snowboarders. In fact, some of the most pristine powder can be accessed along specialty designed snowshoe trails. Grouse Mountain offers a winter alternative to their Grouse Grind (a popular summertime hiking trail), the Snowshoe Grind. For moderately fit individuals, the 4.3 km trail takes hikers up 240 metres in elevation. Fitness aficionados can participate in the Snowshoe Grind Timer Program – a device will track your time and progress throughout the season. If the Snowshoe Grind is a bit too intense, the mountain has an array of trails along the Munday Alpine Snowshoe Park to suit all levels. If you want to treat yourself after a day trekking through the snowbanks, check out their Snowshoe Fondue packages.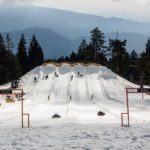 Try a Tube Park
A favourite for the young and young at heart is hopping on an inner-tube designed especially for snow. While tube parks can be found on the North Shore ski hills, brand new this winter are the 200-foot long runs at the Aurora Winter Festival site located along False Creek. The runs stand 20 feet tall and provide an easier-accessed alternative to the mountains. If you are keen to head up to a ski hill, Mount Seymour's runs feature a convenient, custom tube tow, meaning tubers don't have to haul their tube back up the hill.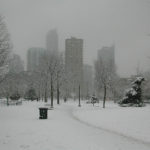 Make a Snowman
If there's one thing Vancouver has lots of, it's green spaces. Rather, white spaces once the snow begins to fall. Parks around Yaletown and Coal Harbour, as well as Stanley Park, are great spots to build a winter friend but the really sweet spots are all the tiny, lesser known parks hiding right downtown! Nelson Park, mere steps from the hotel is home to the West End Farmers Market in the summer months but is underused in the winter. The park sits right behind St. Paul's Hospital and fills an entire city block. Make a quick stop at nearby Kins Farm Market on Davie Street for a crisp orange carrot to complete your snowman's look.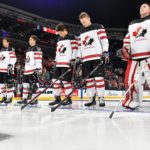 Take in a Hockey Game
Hockey is one of Canadians favourite winter activities and if we're not playing it then we're watching it! This winter season, fans are in for a real treat because Vancouver (along with Victoria) is co-hosting the 2019 IIHF World Junior Hockey Championship. From December 26 – January 5, national junior hockey teams from all over the world descend upon the two cities for the chance to claim top spot. In Vancouver, Team Canada along with teams from Russia, Czech Republic, Denmark and Switzerland play at Rogers Arena, while teams from the USA, Sweden, Finland, Slovakia and Kazakhstan will be facing off in Victoria.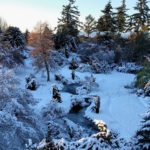 Watch the Snow Fall
If your preference is to enjoy the snow from the comfort of the indoors, pull up a chair at Seasons In The Park, a restaurant in Queen Elizabeth Park that serves up delicious dishes and some of the best views in the city. Queen Elizabeth Park is the highest point in Vancouver and makes a great spot to gaze out as the snow gently blankets the city. On a clear day, visitor can even catch a glimpse of the North Shore Mountains covered in snow. Should you decide to take a walk through the grounds, the Quarry Garden turns into a winter wonderland and is the perfect place for a peaceful stroll.
Come in from the cold and enjoy a comfy, cozy stay with us. Visit our booking page for great rates.
Photos:
Feature Photo – Snow Selfie on Grouse Mountain: Tourism Vancouver/ Rishad Daroowala
Snowshoeing: Grouse Mountain Resort Facebook page (original photo by: @rjmints)
Tubing on Mt Seymour: Mt Seymour Facebook page
Nelson Park: Matt Boulton via Flickr
Team Canada: Hockey Canada Facebook page
Snow Quarry Garden: Ruth Hartnup via Flickr